Skip to Main Content
It looks like you're using Internet Explorer 11 or older. This website works best with modern browsers such as the latest versions of Chrome, Firefox, Safari, and Edge. If you continue with this browser, you may see unexpected results.
About resettlement in the U.S.

Refugee 101: an FAQ about refugee resettlement in the United States
---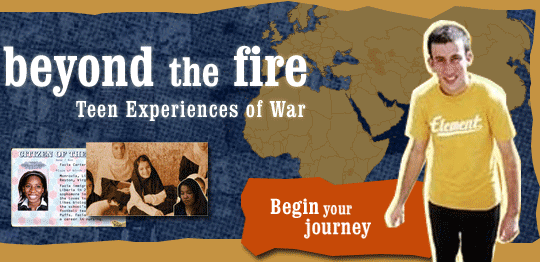 BEYOND THE FIRE introduces the real-life stories of 15 teenagers, now living in the U.S., who have survived war in seven war zones.
Refugees in Vermont in the news
Rutland Welcomes
See the Rutland Welcomes website for information about Rutland's work to prepare to welcome refugees and how to get involved.
Support for refugees in Vermont
Vermont Refugee Resettlement Program
a field office of the U.S. Committee for Refugees and Immigrants
---
Association of Africans Living in Vermont
A Community-Based Organization by Africans for Africans
Online exhibits--Vermont refugees and migrants
Two online exhibits on immigrants and migrant workers in Vermont, from the Vermont Folklife Center Vision and Voice Documentary Workspace
---

Images and stories of
refugees resettled in Vermont